Beet Soup with Cashew Swirl
a starter or main that's a feast for the eyes and the mouth
When we were kids, soup was always just the means to an end. Once the soup was done, we could get to the main course! But those days are over. Our beet soup is sure to draw everyone's eye to it – and keep it! Topped with a creamy cashew swirl and served with crusty Protein Bread, our peppy pink soup is ready for the attention it deserves. Who needs your standard mains when you've got something looking and tasting this gorgeous?
Preparation
Ingredients:

150 g cashews

The night before you cook, soak the cashews overnight.

Preheat the oven to 200°C.

If you're making yourself the Vegan Protein Bread, now is the time. Prepare according to the directions on the package.

Put the ingredients for the cashew cream into a powerful blender. Add water as needed for the texture. It should be the same texture as whipping cream.

Ingredients:

3  beets , 1  parsnip , 1  celery root , 1 tbsp olive oil ,   salt ,   pepper

Wash the beets and wrap them in aluminum foil. Roast for 50-60 minutes in the preheated oven. They are finished roasting when they are soft enough to stick a fork into them easily. While the beet is roasting, peel the parsnip and celery root, then chop into cubes. Put into a bowl and mix with a tablespoon of olive oil, plus salt and pepper. Lay a piece of parchment paper on a baking tray and spread the cubes over it. Put into the oven for the last 20 minutes of the beets' roasting time.

Let the beets cool, then peel them and cut into chunks. Set aside.

Ingredients:

1  leek , 1  onion , 1 tbsp ginger , 4 cloves garlic , 1 tbsp olive oil

Slice the leek into rings. Chop the onion. Dice the ginger and the garlic. Heat a tablespoon of olive oil in a large pot. Add the leek and onion. Saute for 4-5 minutes over high heat. Add the ginger and garlic and cook for another 2-3 minutes, stirring regularly.

Ingredients:

500 ml vegetable stock , 400 ml coconut milk

Add the vegetable stock and the roasted vegetables. Simmer on medium-high heat for 15-20 minutes.

Puree with a stick blender.

Ingredients:

  pepper ,   salt

Season with salt and pepper to taste.

Serve the beet soup into bowls. Put a dollop of cashew cream into each bowl and use a spoon to drag it into a swirl. Serve with the Vegan Protein Bread.

Top the beet soup with fresh thyme and parsley.

Enjoy!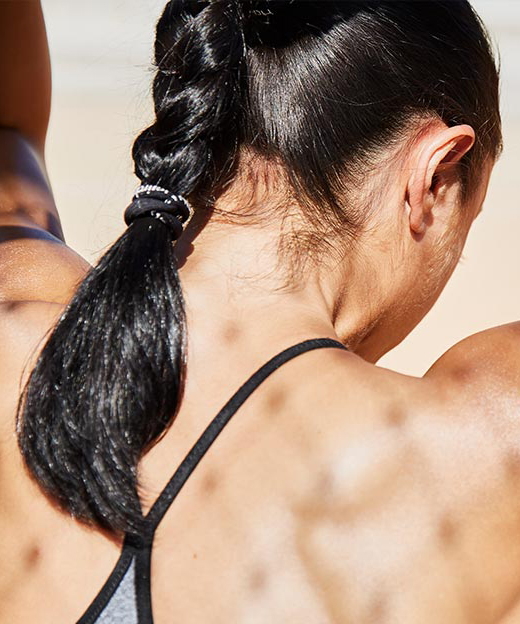 Free Body Check
Want to improve your nutrition? Our Body Check will help!
Personal BMI Calculation
Helpful nutrition advice
Products to help hit your goal
Get started